Dub Dub Goose + Nyash! (Jazz Dub Ska Roots Reggae)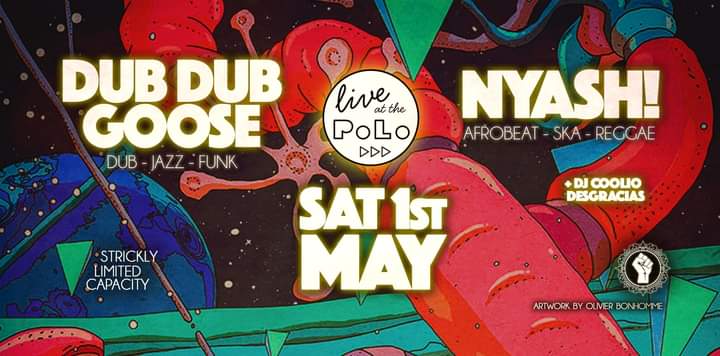 Two mighty bands on one glorious night of Dub, Ska, Roots, Jazz goodness! Dub Dub Goose make a rare live appearance on this double bill with local hero's Nyash! Afrobeat Collective!
SAT 1st May @ Polish White Eagle Club
TIX @ http://bit.ly/dub_nyash
This event WILL sell out so get in quick to avoid disappointment! Vibes will set by DJ Coolio Desgracias + visuals by Cultura Clandestino! Proudly supported by Live at the Polo + Cultura Clandestino
Dub Dub Goose – biography
Expect skankin' horn lines, tight grooves, killer guitar solos, low saxophone rumblings and plenty of old songs to get you to MOVE YOUR FEET.
Dub Dub Goose formed as an impromptu reggae jam band to cover an empty slot at the Moruya Jazz Festival in October 2007 by a bunch of ANU jazz students. They gradually evolved to playing Thursday happy hour jam sessions at the ANU bar, then a progression of gigs at 'The Front' Cafe in Lyneham, Canberra where they were joined by local vocalist and guitarist Beth Monzo who took them in another direction, and they started writing songs instead of just epic jams. After a few years of many gigs around town, they recorded their debut album at a beach house in North Durras in 2009, and released in 2010.
The band drifted apart in 2011 to live overseas and interstate and form new projects such as Betty Alto, Nyash! Afrobeat Collective, I Hold The Lion's Paw and Glitoris. In 2020, 10 years after the release of The Goose Is Loose, the band reunited for a special gig at the Art, Not Apart Festival and in 2021 will play once again for Canberra audiences!
Nyash! Afrobeat Collective – biography
Canberra's very own enclave of Afrobeat + Ska + Reggae sounds – this 9 piece orchestra combines the mighty Afro-Funk of Nigeria's Fela Kuti with tight brass section and heavy jazz + ska grooves!
Originally formed in 2012 by Nicholas Combe and Simon Milman (Coolio Desgracias) – two stalwarts of the local jazz and reggae scene in Canberra – the band recorded their debut EP in the same year and played around the ACT and South Coast before both Nicholas and Simon moved overseas – one to Jogyakarta and one to Buenos Aires. 7 years later and back in their hometown – the band has reformed with original members and some great new additions.
This NYASH! V.2 is blessed with the musical wizardry of members of Zambezi Sounds Canberra, Los Chavos, Dub Dub Goose, Dubba Rukki and The Ellis Collective – From West Belconnen to West Africa and beyond, this musical collective will keep your nyash shaking!
SAT 1st May @ Polish White Eagle Club
TIX @ http://bit.ly/dub_nyash